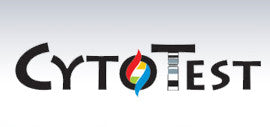 CytoTest
ASPSCR1-TFE3 Fusion/Translocation FISH Probe Kit - 10 tests
CT-PAC061
Contact us for more information.
The ASPSCR1-TFE3 Fusion/Translocation FISH Probe Kit is designed to detect rearrangements involving the human ASPSCR1 and TFE3 genes located on chromosome bands 17q25.3 and Xp11.23, respectively. Fusion of ASPSCR1 – also known as TUG, ASPL, ASPS, RCC17, UBXD9, UBXN9 or ASPCR1 – with the TFE3 gene – also known as TFEA, RCCP2, RCCX1 or bHLHe33 – on the X chromosome has been observed in alveolar soft part sarcoma and a subset of renal cell carcinomas.
For Research Use Only.