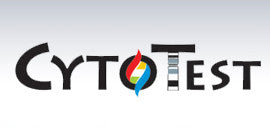 CytoTest
BCR-ABL1/ASS1 Tri-color Fusion/Translocation FISH Probe Kit - 10 tests
CT-PAC110
Contact us for more information.
The BCR-ABL1/ASS1 Tri-color Fusion/Translocation FISH Probe Kit is designed to detect rearrangements involving the human BCR,ABL1 and ASS1 genes located on chromosome bands 22q11.23, 9q34.12 and 9q34.11, respectively.* A reciprocal translocation between the two regions is present in virtually all cases of chronic myelocytic leukemia (CML), but also occurs in a subset of pediatric and adult acute lymphocytic leukemias (ALL), acute myelogenous leukemia (AML) and other malignancies.
For Research Use Only.