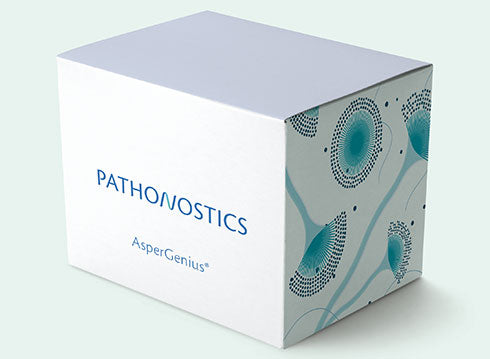 PathoNostics
AsperGenius Resistance Multiplex (IVD)
PN-002
Contact us for more information.
Overview
AsperGenius® is a multiplex real-time PCR assay developed by PathoNostics. It rapidly diagnoses Aspergillus infections and simultaneously identifies azole resistance. Within 2,5 hours, detection and characterization is accomplished in lower respiratory tract samples of Aspergillus infected patients. AsperGenius® allows for timely, targeted antifungal treatment resulting in reduced toxic side effects and improved treatment outcome in these patients.
The AsperGenius® multiplex PCR assay is suitable for real-time PCR instruments using melting curve analysis and has been validated on LightCycler 480 (Roche), Rotor-Gene 6000 (Corbett) and Rotor-Gene Q (Qiagen).
AsperGenius® Resistance multiplex (PN-002)
50 reactions
Detection and differentiation of

 

Aspergillus

 

species
Identification of 4 azole resistance markers in

 

Aspergillus fumigatus
Resistance multiplex
L98H
Tandem repeat 34
T289A
Y121F
Diagnostic Specimens
Bronchoalveolar lavage (BAL) samples from hematology patients
Bronchoalveolar lavage (BAL) samples from intensive care unit patients
Quality
Validated on fungal cultures
Validated on clinical samples (BAL)
CE-IVD marked
Features & benefits
Direct detection on clinical samples
Identification of the most prevalent triazole resistance mutations
Diagnosis within 2,5 hours after nucleic acid extraction
Internal Amplification Control (IAC) included
Positive controls included
Interpretation software available