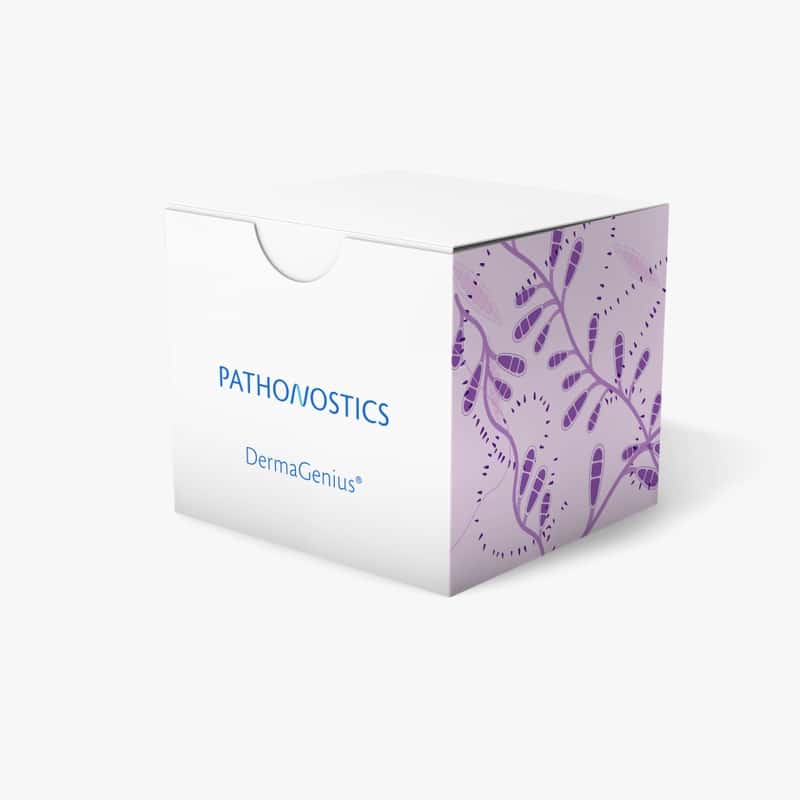 PathoNostics
DermaGenius® 2.0 Nail Multiplex (IVD)
PN-301
Contact us for more information.
Overview
DermaGenius® multiplex real-time PCR assays identify the most prevalent fungal infections in nail, hair and skin samples within 2.5 hours. A semi-automated DNA-extraction is recommended in the procedure to ensure efficiency with limited hands-on time. The procedure from sample to diagnosis can be implemented by a routine molecular diagnostic laboratory and is suitable for high-throughput screening.
DermaGenius® assays are separately available as Nail and Complete multiplex products.
The DermaGenius® multiplex PCR assays are suitable for real-time PCR instruments using melting curve analysis and have been validated on LightCycler 480 II (Roche) and Rotor-Gene Q (Qiagen).
DermaGenius® Nail multiplex kit (PN-301)
50 reactions
Detection and differentiation of

 

Candida

 

and

 

Trichophytonspecies
Nail Multiplex Kit Targets:
Candida albicans
Trichophyton rubrum
Trichophyton interdigitale
Internal Control (IC)‍
Quality:
Validated on fungal cultures
Validated on nail, hair and skin samples
Validated on EQA programmes of QCMD
CE-IVD marked
Features & benefits
Identification of the most clinically prevalent fungal infections directly in nail, hair and skin samples
Diagnosis within 2.5 hours after nucleic acid extraction
Nucleic acid extraction procedure recommended
Internal Control (IC) included
Positive controls included